Whether you want to understand how state-of-the-art semi-underground waste containers are built, or how they affect municipal solid waste management, this article is for you.
Fully underground container vs. Semi-underground container
Semi-underground waste containers have several advantages over fully underground containers, the most important being their flexibility. The MolokDomino system uses a unique rectangular waste division system which allows you to configure a single 5m3 container in a seven different ways. Currently, no other waste management system enables the same degree of flexibility.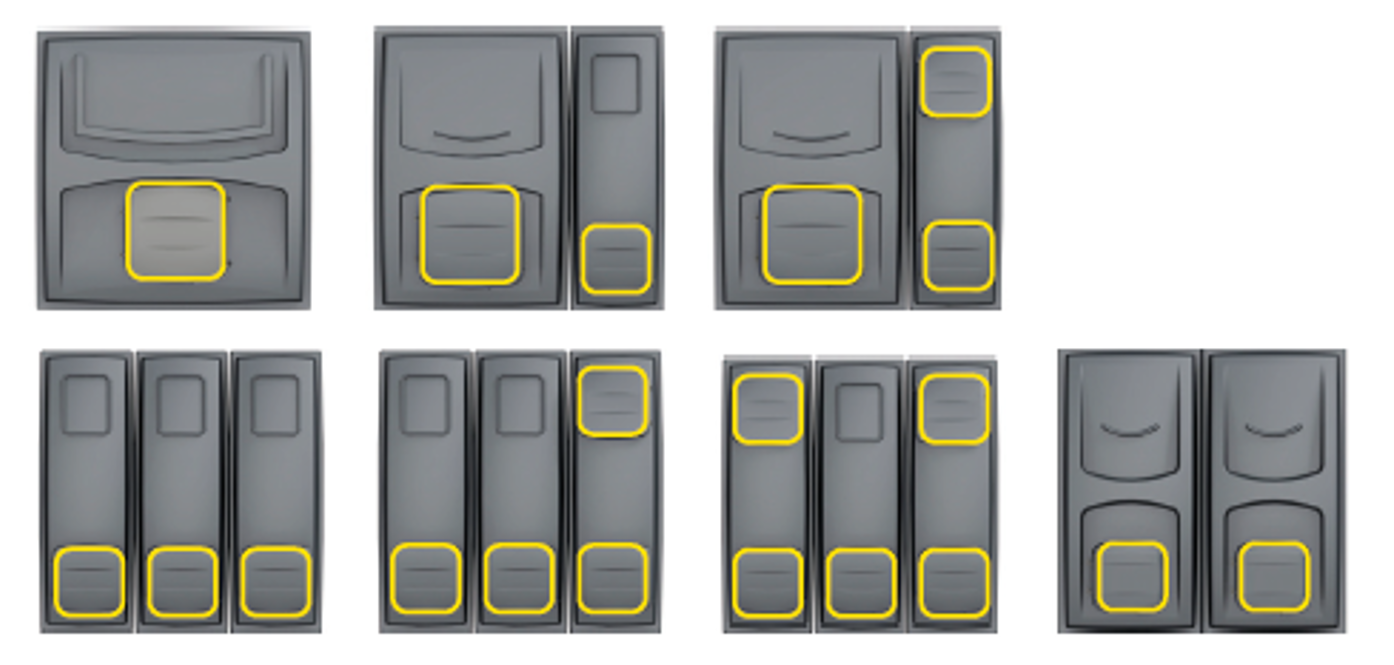 One MolokDomino 5m3 container can be divided in 7 various ways.
The MolokDomino offers an adaptive, modular waste management solution which can be designed to suit your specific needs without the constraints and limitations of fully underground containers.
MolokDomino is more than just a semi-underground waste container. It is an integral part of a waste management and recycling system. With this system, municipalities can substantially increase recycling and solid waste separation at origin, reducing the sorting that needs to take place later. In addition, the modular nature of this system allows you to adjust the container volume for each specific type of waste to suit your needs.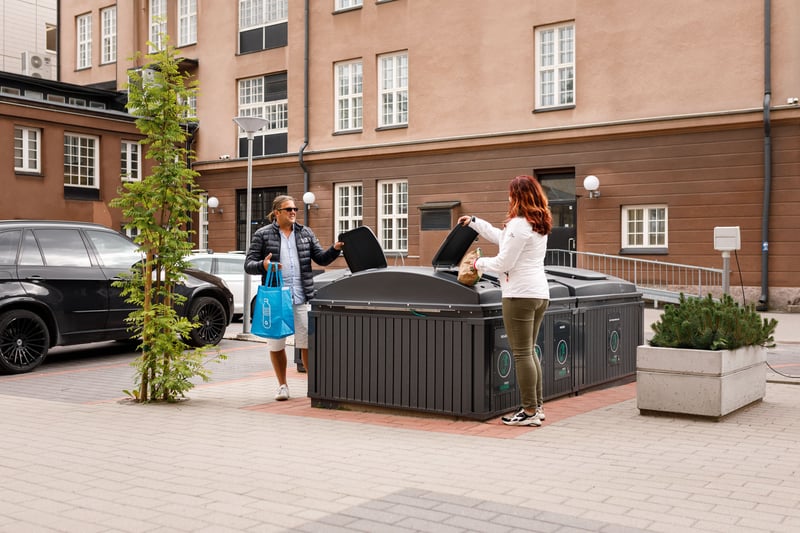 The modular nature of MolokDomino system allows you to adjust the container volume for each specific type of waste to suit your needs.
The MolokDomino system is so efficient that a group of three waste containers only takes up the same amount of space as 2 parking spaces. It is so flexible that you could divide the containers in 343 different ways. There is a solution for every need, and you're not stuck with your decision forever. It's easy to redesign your system and change the volumes that you need due to changes in operating habits or waste regulations. A fully underground system can only be adjusted and modified to a limited extent. These waste containers can be divided into only two parts, i.e. two waste fractions, but one MolokDomino container can be effectively divided from one to five waste fractions.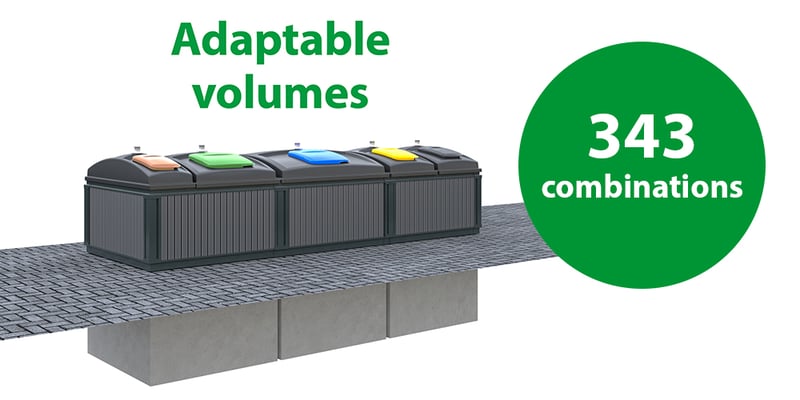 No other waste container MolokDomino has the same adaptability. You can divide A group of three containers in 343 ways, so there is a solution for every need.
We already mentioned the unparalleled flexibility offered by the MolokDomino, but another major advantage is its unbeatable volume and overall efficiency in a compact space. A larger volume in one waste collection also means that waste pickup can be less frequent, saving money and time.
Other advantages of Semi-underground waste containers
Our underground waste containers are meant to have a small footprint, but a big impact. This is because our system is extremely space efficient and can be designed to fit where you need it. It places divided sections to be right next to each other, so that it takes up much less space than other systems with similar volume. This allows additional room for parking or green areas.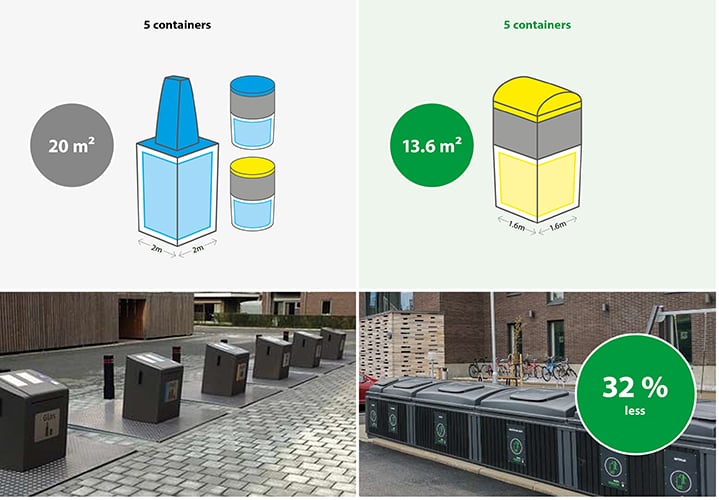 These images show how much space a group of five containers need. MolokDomino needs 32% less space than an average Fully Underground System.
This is why MolokDomino is the best system for densely built cities and cramped areas. There are often narrow roads in the city center and the allocation of space also poses challenges for waste management.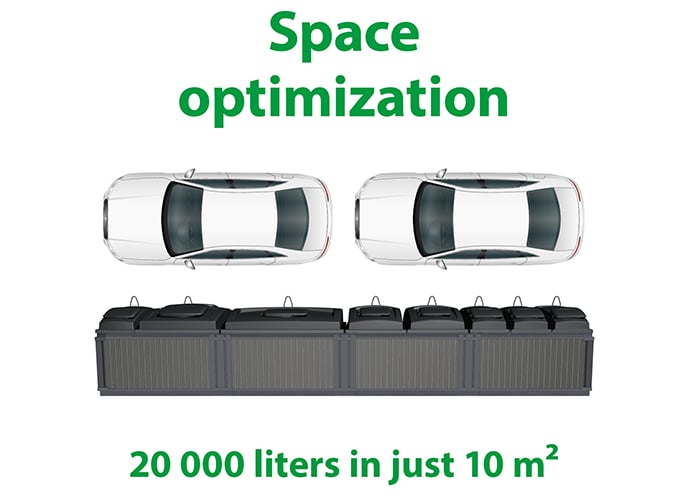 You can collect 8 different types of waste in an area of ​​only 2 car parks (6.5 x 1.6 meters).

There are many ways to install the MolokDomino system. Our waste containers are not restricted to a straight line. There are many more possibilities. The containers can be placed, for example, in an L-shape or facing each other. The system can even be installed on a slope.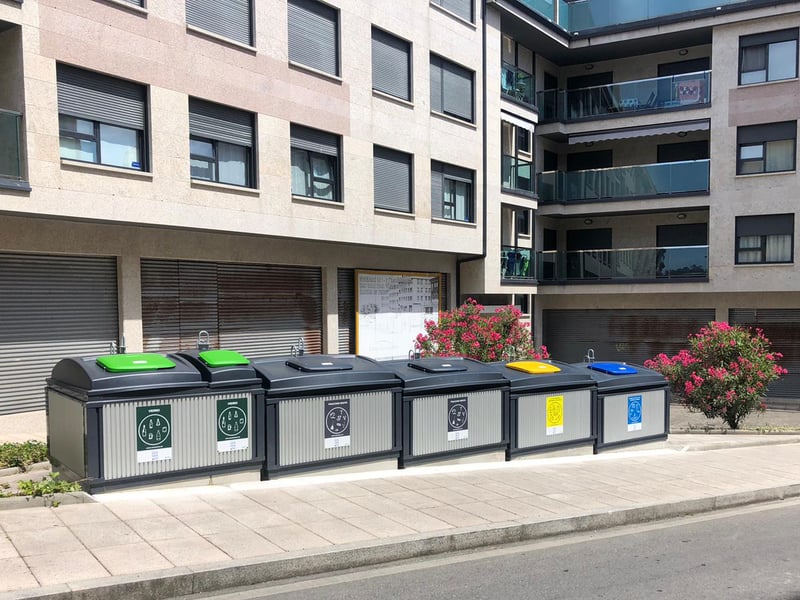 The system can be installed in different places. The picture shows an example of a waste system on a slope.
We also know that the aesthetics of a system matter. When planning a waste system, it is worth considering what the overall look of the environment is. We believe that the waste collection point should be a harmonious part of the overall look of your building or park, rather than an eyesore that you need to hide.
Framing the waste containers is one way to create a unified look for your area. There are a wide range of options for framing MolokDomino containers, from composite to aluminum to print framing. We can also implement a customized option according to your wishes. The possibilities are endless. You can place the containers where they will be easily seen and used and not worry about them becoming an eyesore. Visually, our containers can look good next to a modern office building or a pavilion in a public park. In a fully underground system, there are fewer options to affect the appearance of the waste collection point.
In our reference gallery you can explore few options we have implemented to our customers.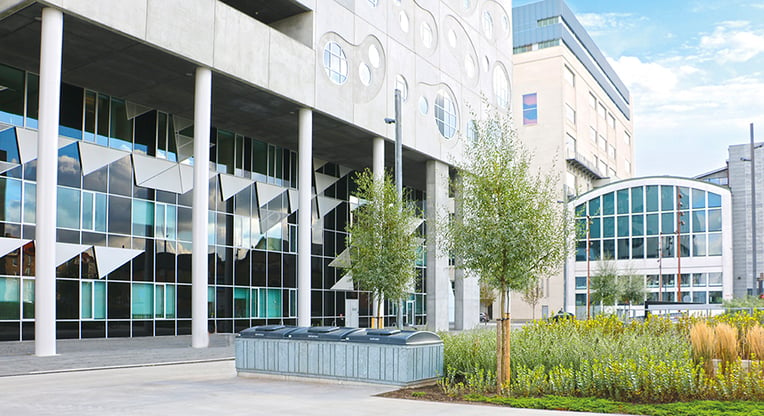 The appearance of the waste container group can be integrated to suit the environment.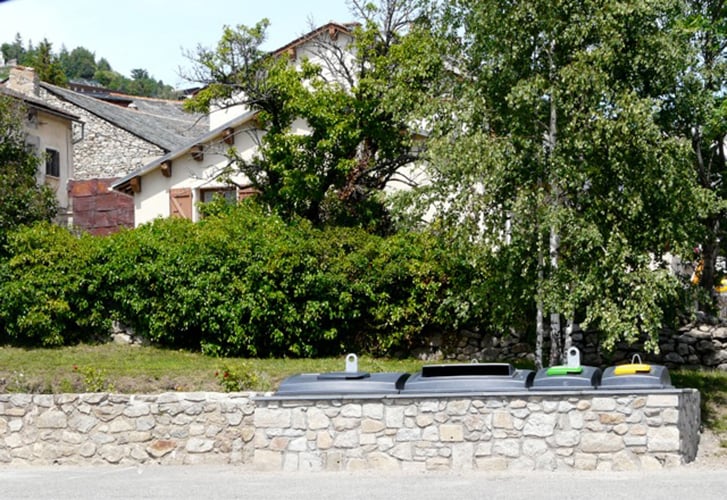 Here is an example of how nicely a waste container is adapted to fit a stone wall.
New ideas for lifting containers
We wanted to create a durable lifting container which was solvent-tolerant, rust resistant and had low noise during operation and emptying. The solution was using HDPE-plastics as the lifting container material. HDPE has a high strength-to-density ratio (allowing thinner walls), is corrosion resistant, and is resistant to many solvents as well. Fully Underground systems use less durable materials, which can give worse performance over time. There is also a comprehensive range of MolokDomino lifting containers, which can be combined with lifting bags as well. You can see an example of below.
The lifting containers are especially effective in the collection of biowaste. For the collection of biowaste we have a special separation plate in the bottom cup which separates the solid waste and liquids.
All collection alternatives for the MolokDomino system can be seen here
Various lifting containers (hard HDPE plastic and soft lifting bags) are available inside MolokDomino. There are several alternative sizes.
Unique features of the drum lid
MolokDomino drum lids are available in two sizes, 1/1 and 2/3. One of the unique features is that the whole opening mechanism is under the filling lid–well protected from the elements The opening system is light enough for almost anyone to use it. The other unique feature is the drum cylinder. It is made out of solvent-tolerant, rust resistant HDPE-plastics, which are light weight and simultaneously robust. Comparable Fully Underground solutions have metal drum cylinders which are loud and prone to rust and corrosion.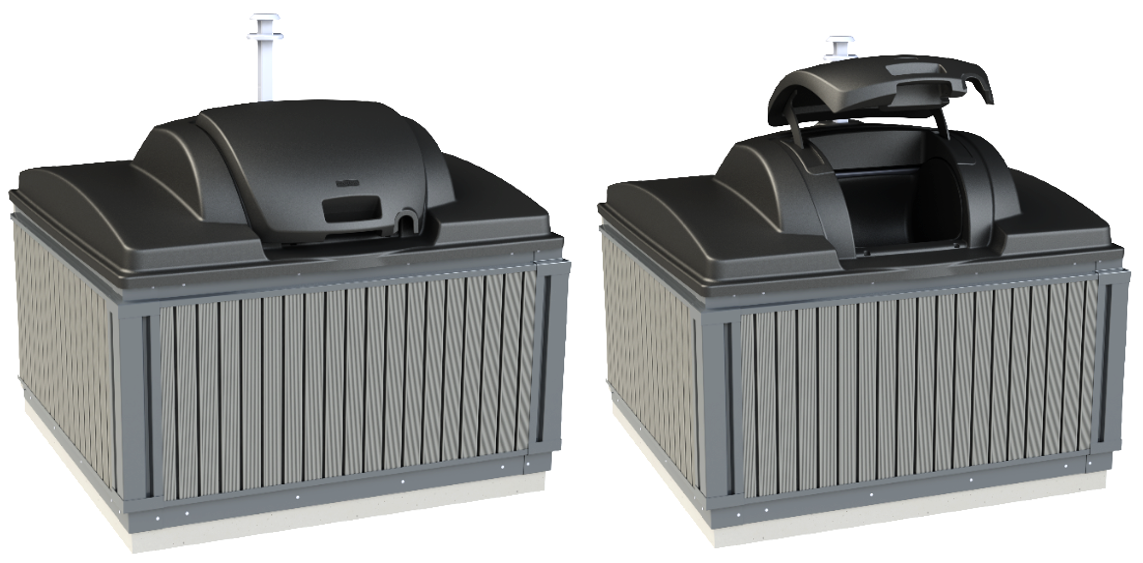 Where is the MolokDomino designed to be installed?
We designed the MolokDomino system to be a complete solution for municipal solid waste management, as well as other medium and large-scale applications. That's why they can be installed in any place where waste collection and separation are required. For example:
recycling and centralized collection points

residential areas

schools, kindergartens, hospitals, and hotels

shopping centers

sports facilities

ports, beaches, rest areas, cemeteries, and campsites

architecturally demanding projects or large public buildings
Our modular system can be scaled up or down to meet the needs of both large and small cities and companies.
European Union legal compliance
The EU sets certain laws and recommendations for waste management and recycling. A semi-underground waste container system guarantees you will comply with EU laws now and in the future. If major changes are required, our unparalleled flexibility and modular system guarantee that those changes can be completed quickly and cost-effectively. The following details are all important when deciding how to comply with the EU laws:
EU has set ambitious recycling targets. It is easier to meet the targets if you have a waste system that can collect multiple types of waste, in a compact place, close to homes. There are few systems that can do all three, but the MolokDomino system does.
Ease of use. Because most of the container is below ground, the opening can be placed in a lower, more ergonomic position, reducing the necessary lifting and the chance of accident or injury. This even makes it possible to use the container with a wheelchair
The large underground container allows gravity to compact the waste more. The lower temperature underground also keeps the waste cooler. This reduces bacterial growth, odor, and CO2 emissions.
Underground system utilizes large collection volumes which enables them to be emptied much less often than traditional surface collection systems. This means less emissions and supports the European climate programs.
The EU usually also requires separate containers for different kinds of waste. As mentioned above, the MolokDomino system excels at that.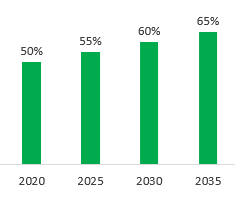 In the chart you see the EU recycling rate targets.
More information about waste separation and MolokDomino Concept

Our waste containers come in sizes ranging from 500 to 5000 liters. For example, paper and plastics usually need more space than biowaste, while metal and glass need less. We can design a system that will suit your specific needs. As those needs evolve and grow, we can evolve and grow with you.
The more exact information of the MolokDomino Concept you'll get from the Concept brochure. Download the brochure here.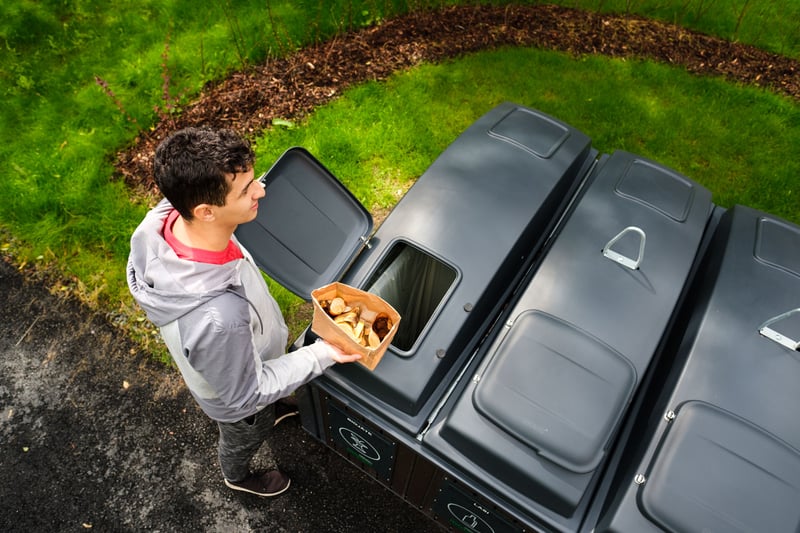 MolokDomino is suitable for collecting all types of waste. For example, there is a special container for collecting biowaste.
How many waste types a Semi-underground waste collection system can support?

The system supports nine (9) different waste types. That includes support for:
Colored glass

Clear glass

Cardboard

Paper

Plastic


Biowaste

Textiles

Mixed waste

Metal
Our modular system can accommodate as many or as few different types of waste as you need.
We have dealers around the world. Contact a Molok expert in your country directly.