New year, new waste collecting systems? Right now, architects, construction companies and housing companies are busy making plans for summer projects. Why should building designers or real estate professionals be interested in waste management solutions?
Stricter requirements for waste management solutions in the new Waste Act
In 2018, the EU updated its directives on waste management. On this basis, governments across Europe have taken steps to achieve the objectives of the directives.
The directives set ambitious targets for waste sorting, for instance. More comprehensive waste collection systems are needed so that we can better reach our recycling goals.
MolokDomino is a master of adaptation
The square-shaped MolokDomino is a smart and modern waste collection system for up to five different waste fractions. A group of MolokDomino containers can handle as many as eight different waste types.
MolokDomino is comprised of adaptable modules: the waste containers can be divided into two or three compartments, depending on the model and size of the container. Thanks to the clever modular design, MolokDomino is a cost-efficient solution for both public buildings and residential properties in a world of ever-changing rules and regulations for waste management.
MolokDomino is also an ideal solution if you want to improve your capacity to collect different types of waste.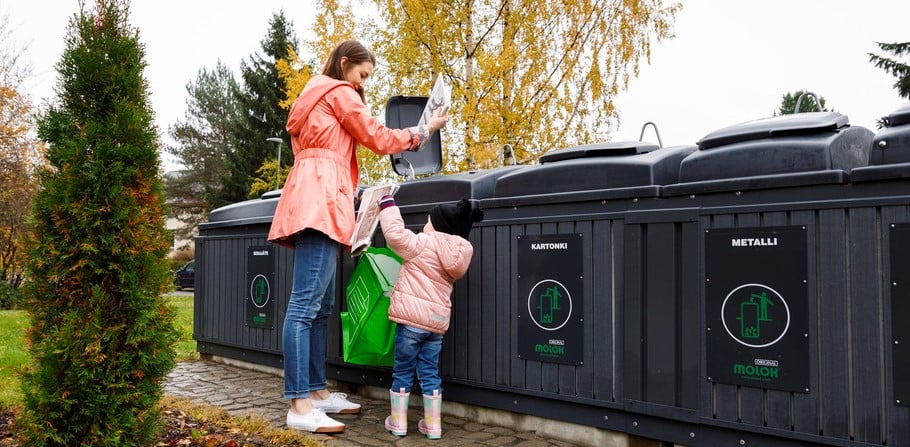 No wasted space
A domino effect is a chain reaction where one event sets off a chain of other events – the same applies to MolokDomino. MolokDomino containers of different capacities can be installed side by side in a tightly and evenly aligned row. With no wasted space between the containers, the footprint of the waste collection point is minimal.
The benefits of the space-saving MolokDomino:
Up to 8 different waste types.
Adaptable and modifiable.
Space-saving and cost-efficient.
Highly resistant to heavy use and varying weather conditions.
Minimizes odors.
Installable in sloped terrain.
Range includes the "MolokDomino Light" surface container.
Interested in smart and cost-efficient waste-collecting solutions? Get in touch and we will help you get started! Remember to also check out the animation about the benefits of MolokDomino: