Enduring innovations are often simple and improve over time. This is certainly true for Molok waste containers. Who would have thought 30 years ago that a waste container called Molok produced in a small village workshop set up in an old barn would set out to change traditional waste management and win the hearts of millions of people around the world. The inventor of the Molok system, Finnish entrepreneur Veikko Salli, trusted in his unique idea and developed a waste container that is partially underground. The system follows the same logic as good old underground cellars: as the containers remain cool and protected from sunlight, the microbial activity inside the waste container is reduced, slowing down the decomposition process.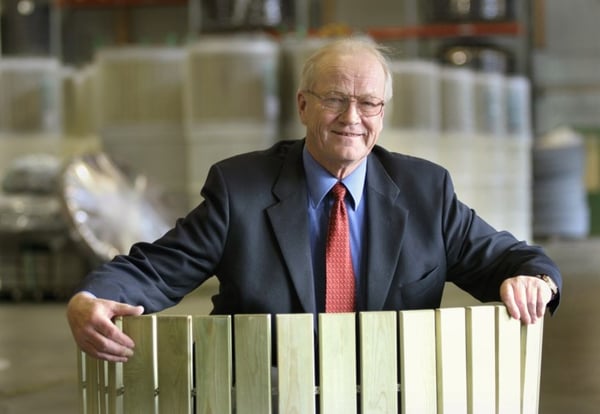 Finnish entrepreneur Veikko Salli trusted his unique idea and developed a waste container that is partially underground.
Designed for users
The Molok system ensures that waste management works because, from the start, the product has been designed with users in mind. After the first prototype was made in Kankaanpää, Finland, operations were transferred to Lavia, where the first municipal pilot was launched using the Molok Deep Collection system. After this, the Finnish Road Administration installed Molok containers in roadside rest areas. Positive feedback from road users, who were happy to see the rest areas tidied up, contributed to the expansion of the innovation to parks, beaches, tourist attractions and residential areas.
The first major order for containers to be installed in a residential area came from Varissuo, Turku. The multicultural community was open-minded enough to experiment with the new waste management system. The experiment was successful, and the waste management in the area improved tremendously. Most importantly, the users, i.e. the residents of the area, were extremely happy with the system. In 2003–2004 Veikko Salli bought a plot of land in the Kankaantaka industrial area in Nokia and transferred all of Molok's Finnish operations there. Molok continued to systematically develop and promote the new waste management system. The company never looked back, focusing purely on the future. They believed in their product and continuously improved it on the basis of feedback from users.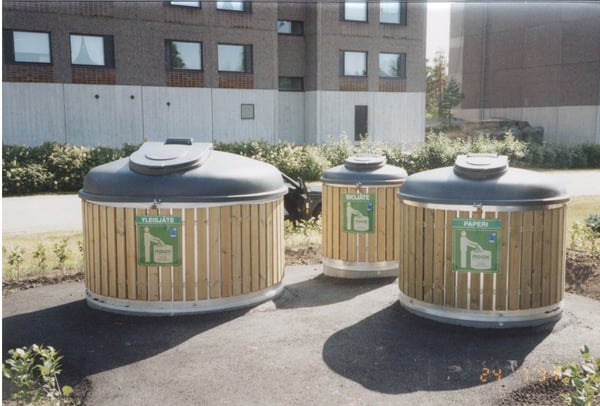 In Turku, in the residential area of Varissuo, almost 30-year-old Molok containers are still in use.
Roots in Finland
Since the start, our products have been manufactured in Nokia, Finland. Certain components, such as lid parts and concrete wells, have been manufactured abroad under a licence or by local assembly units. The waste containers are mainly made by hand. Our Finnish roots are still important to us, and today we take great pride in being able to export this product of Finnish innovation and know-how to more than 40 countries around the world. The production facilities have been expanded several times as the company has grown. The head office and the production plant currently employ 82 people on a permanent basis, as well as more than 20 seasonal workers.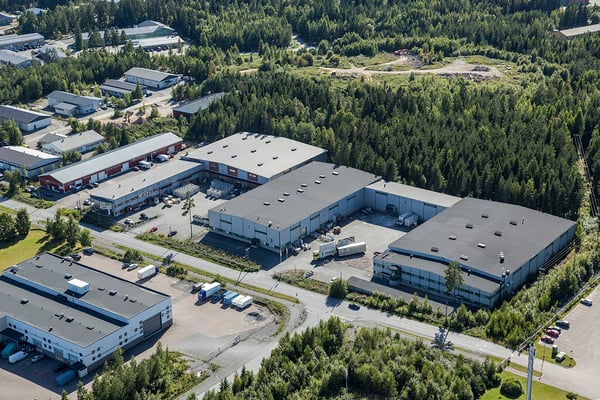 Molok waste containers are shipped from Nokia's headquarters and factory to 40 export countries around the world.
Municipal waste management and the requirements for waste collection containers have changed over the years. For 30 years, Molok has been meeting these changing needs. From the start, Molok's product development has been marked by a desire and ability to meet the needs of municipal waste management proactively. Molok has been constantly innovating for current and future waste management needs with a proactive approach, and will continue to do so. The efficiency of municipal waste management and the promotion of recycling remain at the heart of our operations.
The importance of recycling is much better understood today than it was 30 years ago. Efficient and environmentally friendly waste management calls for innovative and sustainable waste sorting solutions, and Molok is the leading provider of such solutions.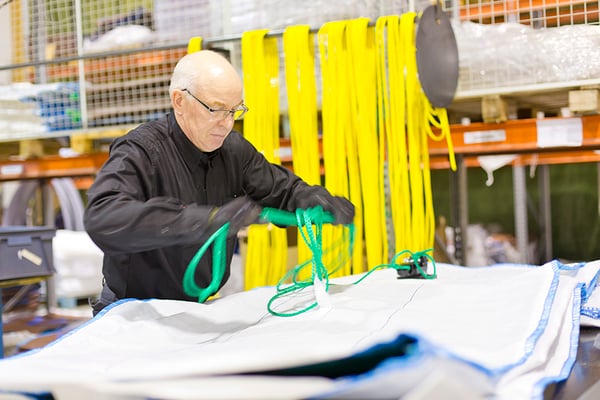 We employ many long-line Molok professionals.
The picture shows Lauri Aaltola, who has worked for the company for 25 years.
The importance of waste management and recycling
Population growth, economic growth and urbanisation increase the amount of waste globally. By the end of this century, developing countries are estimated to be among the largest producers of municipal waste. The lack of space and funding in crowded cities means that the current level of waste management is not sufficient for the growing amount of waste. Waste management must therefore be further developed and improved.
Landfilling is still the most common method of waste treatment for non-hazardous mixed waste (municipal waste) worldwide. In the future, waste should be sorted more efficiently at the source. Such sorting at source would give rise to new waste treatment options with improved separation and recovery possibilities. Attitudes, raising awareness and changing ways of doing this come into play here. These factors play a significant role when it comes to progress towards sustainable waste management. In these matters, we at Molok have been and continue to be at the forefront of development. Unfortunately, changes tend to be slow. Now is the time to take longer strides to achieve the desired result: comprehensive reuse and recycling of waste.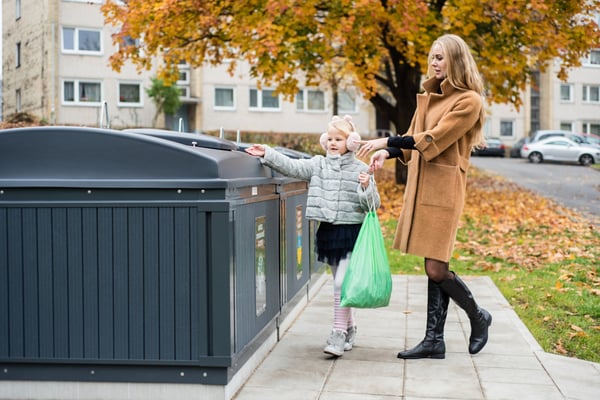 In the future, waste should be sorted more efficiently directly where it is generated, ie usually close to homes.
Recycling needs to be made easy and effortless. This will increase recycling and the environment will appreciate it.
The EU has put pressure on its member states by preparing a waste framework directive, the key objectives of which are to reduce waste and increase reuse and recycling. According to the new waste directive, 55 per cent of municipal waste in Finland must be recycled by 2025, 60 per cent by 2030 and 65 per cent by 2035. The recycling target for packaging waste will be raised: 65% of all packaging waste must be recycled by 2025 and 70% by 2035. In addition, material-specific recycling targets have been set for various packaging waste types. We at Molok encourage municipalities and housing associations to act as quickly as possible, and not to wait until the end of the transition period. The sooner we achieve a higher recycling rate, the better for the environment.
Sustainable waste management helps the climate and environment
In addition to the increase in waste, another major issue affecting the world is climate change. The core idea of our company and our products is to make the environment cleaner. Molok waste containers make waste collecting more environmentally friendly. Our products have a long life cycle. The underground housings of our waste containers have lasted for 30 years, the entire existence of our company. This is testament to the high quality and durability of the product. If a part needs to be replaced, Molok's comprehensive maintenance and spare parts services make repairs and upgrades easy.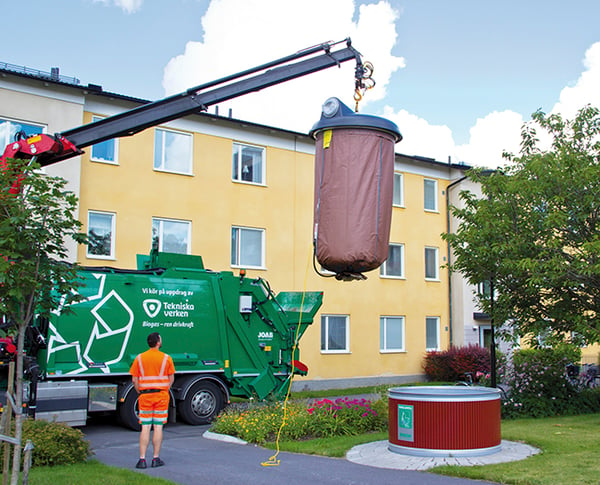 The silence and aesthetics of emptying waste containers is part of environmentally friendly.
Underground waste containers hold a lot of waste, and due to the compaction of the waste, Molok containers are emptied less frequently than conventional surface containers. This means that emptying trucks cause less traffic congestion, consume less fuel and emit less CO2. The fact that the containers can be emptied silently and cleanly also adds to the environmental friendliness. The noise from emptying is one of the factors affecting the environment. Emptying Molok containers is quiet compared to emptying surface containers. This is due to the fact that the containers need not be dragged anywhere but are emptied using a crane in the emptying truck. The bag inside the container is lifted almost silently and the truck driver empties it just as silently into the emptying truck. This also allows the containers to be emptied at night, as emptying will not cause a noise nuisance.
Also worth considering is the fact that, with Molok, a waste container does not have to be an eyesore that needs to be hidden from view. When the waste collection point is pleasing to the eye, clean, and blends in with the environment, it automatically promotes tidiness: nobody will want to leave garbage lying around the neat containers. The result: clean environment and happy residents. All this has a highly positive impact on climate and the environment.
The future of Molok and recycling
We strive to create high-quality products that last a long time. At the same time, we ensure that the products are easy to use for both the waste sorter and the waste pick-up personnel. We are therefore constantly looking for more sustainable solutions. One such solution is that, with the Molok system, recycling can be brought closer to users. In improving consumer recycling behaviour, it has been found that the recycling rate increases when waste containers are placed at an easy-to-reach location sufficiently close by. Preferably, the waste collection points should be along people's daily routes. This increases the recycling rate. We have found that people have the will and desire to recycle waste, but the problem is that recycling is often made too inconvenient. For many, collection points are located too far from their daily routes, which naturally reduces motivation to recycle. By providing a system for easy recycling we can increase the recycling rate.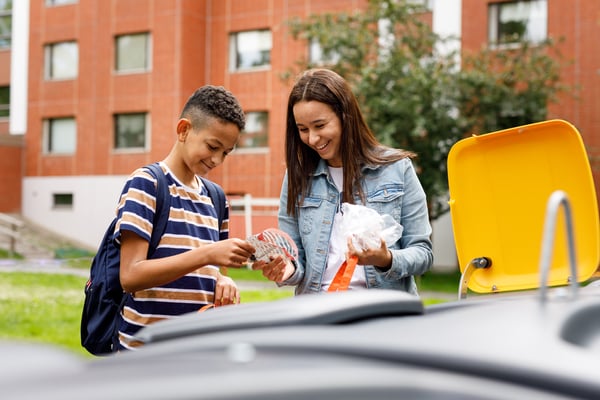 There is a will and desire for recycling, but the difficulty often becomes that recycling is made cumbersome.
Recycling is improved when waste bins are placed in a place that is short distance away and easy to reach.
There is a will to improve waste management and recycling – efficient collection solutions are needed
It seems that most people are ready and willing to sort their waste but the powers that be lack the courage to reach decisions to promote residential multi-fraction waste collection on a large scale. At present, there are common collection points in the yards of large supermarkets, etc., but their number and placement do not sufficiently support growth in sorting. Molok provides advanced solutions to this problem, such as the rectangular MolokDomino container system, capable of collecting 15,000 litres of waste in an area of 10 square metres. With this type of system, located close to people's homes, seven different types of waste can be easily collected: biowaste, metal, plastic, cardboard, paper, glass and mixed waste. The solution is ideal for blocks of flats and terraced houses and can also be used as a common collection point shared by multiple detached houses. The common collection point shared by several houses is referred to as the Block Collection model, a concept created by Molok. Block Collection reduces waste collection traffic and emissions in the neighbourhood while increasing safety and the recycling rate. In addition, the time spent by residents on sorting is reduced as the waste collection containers are located within walking distance of their homes. With recycling made easy and sorting opportunities brought close to the occupants, recycling becomes more popular and the materials recycled are cleaner. Block Collection has been introduced in new residential areas in Finland, Sweden and Lithuania.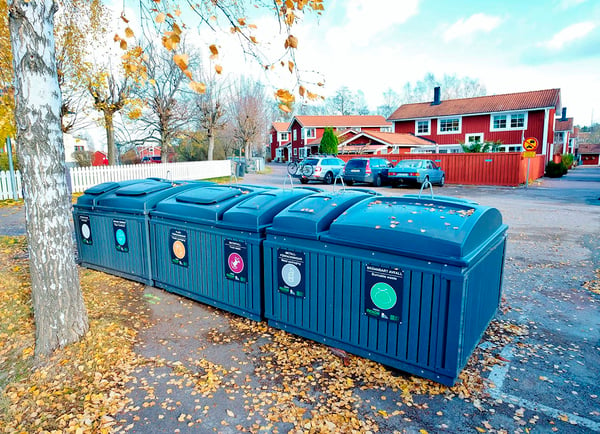 Block collection is a concept created by Molok Oy. Block collection reduces garbage truck traffic in a residential area
and thus reduces emissions in the neighborhood while increasing safety and recycling. Picture of Falun in Sweden.
The Molok solution has the potential to achieve cost savings of up to 50% over a twenty-year period compared to conventional surface containers. The cost of surface collection is increased by the construction and maintenance of a waste bin shelter. Surface containers are considerably smaller in volume than Molok containers, and the bin shelter always sets limits on the number of waste containers available. When more containers are needed, the bin shelter has to be extended or even rebuilt completely. In the long run, the Molok Deep Collection system will be cheaper than surface collection not only due to the long service life of the waste containers but also due to the longer emptying interval.Yet another advantage of Molok containers is that they are so versatile: when you need more collection options, you can divide an existing container into multiple compartments for different waste fractions, so you do not need to purchase a new container.
Advanced technologies to support sustainable waste management
Various waste container emptying methods and sensor-based solutions are used around the world to measure, for example, the degree of filling, the emptying or opening of waste containers, as well as temperature changes in them. We keep track of technological developments in the field and develop new solutions as needed. Accordingly, our offering has constantly evolved and expanded, providing various functional options in respect of both mechanics and electronics. One example is the remotely controlled electric lock complete with software that lets you limit and monitor the use of the container. We know that emptying waste containers is a rather rough and fast-paced activity. Therefore, our aim in product development is to ensure that the waste containers are durable and easy to use for both the user of the container and the emptying personnel.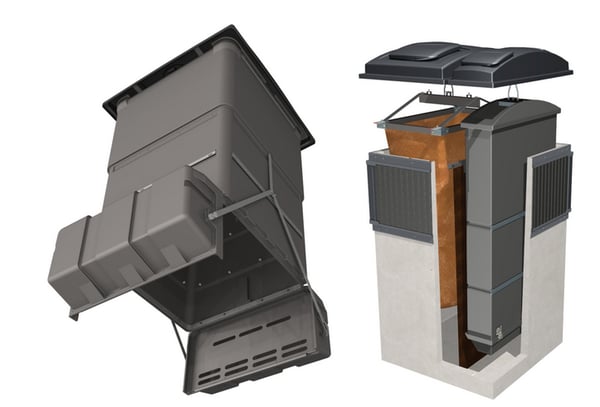 Inside the Molok container, a lifting container or a lifting bag is used to collect various types of waste.
Lifting container can utilize three different emptying techniques, 1-hook, 2-hook and Kinshofer emptying.
Discussions on waste management are often focused on major themes and large entities. However, taking the garbage out is part of our everyday lives. The place where we take our household refuse should be clean, tidy and conveniently located. That is how simple it is.
We at Molok want to thank all of you millions of people around the world who have made our 30-year journey possible. Let us continue working together for a more sustainable future.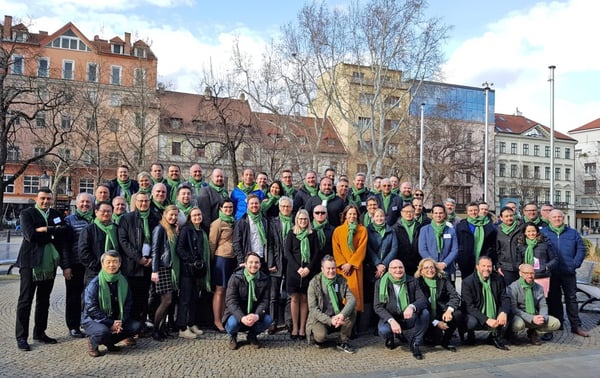 We thank all of you millions of people around the world for making our 30-year journey possible.
Pictured is part of the international Molok team.
Contact us - We are happy to help you with waste management